Clipper Logistics has launched a "warehouse to wheels" training scheme to enable employees to gain a class 2 driving licence.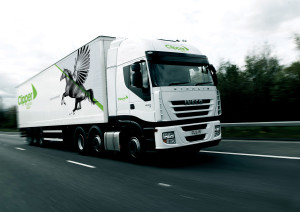 The "Revolve" initiative was launched at the Swadlincote site, but will be rolled-out to Clipper employees nationally over the coming year.
The Road Haulage Association estimates that the UK is currently facing a shortage of between 45,000 and 50,000 HGV drivers.
Speaking in December, chief executive Richard Burnett said: "We as an industry need to face this challenge head-on. And with a shortage of drivers across Europe, it's vital that the sector does more to bring people into the industry."
Transport operations director Mick Doe said: "Revolve has seen fantastic demand, and we're proud to be launching a training programme that can have such positive effects.
"We're always looking at the next step, and we're already in the process of looking at offering Class 1 driver training as an option in the future. Alongside our driver simulators, which were launched last year, Clipper has proven itself to be at the forefront of professional HGV operation."