The Co-operative group is transferring around 50 of its drivers in Coventry to haulier Eddie Stobart. The transfer plans have prompted a consultative ballot of 1,000 Co-op drivers for industrial action, Unite the union has said.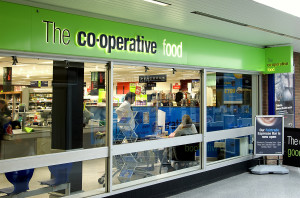 Unite has voiced its concern about the proposal due to Stobart's 'past treatment of workers transferred to its operations'. It refers to a 2012 dispute with Tesco in Doncaster, where 184 workers were transferred to Stobart.
Drivers were later issued with a termination of employment notice.
"We have entered into consultation with affected colleagues regarding some of our logistics operations," a Co-op spokesperson said. "The consultation is with colleagues about the proposed changes and how they are potentially impacted."
Adrian Jones, Unite national officer for retail distribution said:
"We are very opposed to this proposed TUPE of the Co-op drivers to Eddie Stobart as this company has proved to be ruthless in its treatment of such workers, as its behaviour at Doncaster proves only too clearly. Eddie Stobart's approach to industrial relations compared to the ethos of the Co-operative movement is like 'chalk-and-cheese'.
The union has said it is holding the ballot because it believes if drivers are outsourced, it is likely their pay and terms and conditions will be "seriously eroded".
Unite will be holding the ballot for its Co-op driver members based at Birtley, Newcastle; Carrickfergus, Northern Ireland; Castlewood, north Derbyshire; Coventry; Newhouse, Lanarkshire; Plymouth and Thurrock in Essex.
The Co-op national board agreed to transfer the drivers to Eddie Stobart in April.