Co-op expects additional costs associated with Covid-19 to be in excess of £200 million, although these will, in part, be offset by increased food sales and business rates relief in 2020.
Group chief executive Steve Murrells said that 2020 would be a year of "hugely significant disruption" adding that there was "a dramatic increase in purchases in the early weeks of the pandemic" that placed severe pressure on its stores and logistics network.
"It's clear that the Covid-19 virus is causing hugely significant disruption to the UK economy as well as to everyday life in the country. 2020 will now be dominated by this global event," Murrells wrote in Co-op's annual report.
"If movement restrictions continue for some months, we'll need to adapt to new patterns of shopping and respond to any disruptions within the food supply chain.
"We'll continue to work closely with the government and industry bodies to ensure the resilience of all our businesses and we're following all advice on protecting the health of our colleagues and customers. With the disruption set to continue into the foreseeable future, we'll be reviewing our business planning and investment decisions to ensure they are still appropriate in these rapidly changing conditions."
Food supply chains

The warnings came as Co-op – which has a 6.2% share of the UK grocery market according to Kantar WorldPanel – revealed a 3.1% increase in turnover to £7.5 billion for its food business, and a 44.7% increase in turnover to £1.4 billion in its wholesale business (incorporating contributions from Nisa), in 2019.
Co-op acquired Nisa in spring 2019 and said it had set up a single buying operation for all of the stores it supplies, with Nisa partners able to select from 2,000 Co-op own brand products.  Co-op said it had seen a rapid uptake in 2019, with 90% of Nisa partners now taking lines from across the range.
Online ordering and home delivery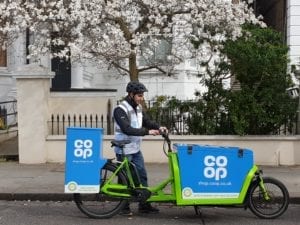 In March 2019, Co-op Food launched its same day online delivery service shop.coop.co.uk, using low and no-emission cargo bikes from its Kings Road store in Chelsea in London.
Co-op said that it was the first time that it had successfully offered online delivery and by the end of 2019, it was operating the service out of 32 hub stores covering central London and central Manchester. In parallel, it said that Co-op Food continued to expand online delivery services through partnerships with Deliveroo and Starship.
Co-op Food will expand its own online grocery services throughout 2020 running out of some 400 hub stores around the UK including Southampton, Liverpool, Leeds, Manchester and London.