Swiss multinational pharmaceutical company Novartis has said that "constant alignment" with health authorities and agencies to ensure correct demand and supply balance had helped supply chain resilience in pharmaceutical companies during the height of Covid-19.
Speaking exclusively to Logistics Manager Steffen Lang, global head of technical operations at Novartis, said that the Covid-19 pandemic had reiterated the importance of risk management and supply chain resilience in all organisations.
As a result, Lang said that this had firmly placed scenario planning and proactive strategic supply risk management as essential elements contributing to that resilience: "Dual-sourcing, diversification of supply points as well as optimum inventory allocation are other key elements that should be embedded in the strategy of any organisation.
"Close alignment with governmental bodies and health authorities has been key in managing the crisis," he said, "especially in markets where stockpiling behaviour was observed.
"Being in constant alignment with health authorities and agencies to ensure correct demand and supply balance, helped pharmaceutical companies to avoid stockpiling behaviours whenever detected, ensuring uninterrupted supply to patients worldwide."
Lang said that the pandemic had also shed light on the importance of digital readiness at Novartis: "Our digital readiness and IT infrastructure enabled all our office-based colleagues to immediately switch to work from home at the first warning signs of the pandemic. Covid-19 has been an accelerator of the digitisation: as we need to run more supply/demand and distribution scenarios quicker."
Traditional risk
Traditional risk management methodologies around 'detect, assess, mitigate", and looking into "impact, likelihood and preparedness" are still valid in a crisis situation says Lang. "I'd add to it 'swift communication, and data collection & analysis' to enable organisations to respond quickly and with agility to challenges of today's world.
"It is essential to have a culture of a learning organisation, where the learnings as you go through a crisis are captured, and immediately fed back into your ongoing response. In a crisis situation, you do not have the luxury of time as the situation unfolds rapidly, so a quick escalation process and a responsive and supportive management team were key in successfully managing the crisis so far."
Lang says that companies with a diverse global footprint can leverage on best practice sharing between different locations (such as factories, offices, labs…etc.) to accelerate learning. For example, he says, Novartis teams in China were sharing updates about the pandemic and their response with colleagues in other parts of the world, which went a long way in preparing them to respond appropriately when the pandemic reached their region.
Automating supply chains
Automation is possible in all areas of the supply chain, says Lang, and can incorporate planning, order management, production, quality release, physical distribution and performance management.
"We are currently simplifying and digitising the demand planning (forecasting) process by using predictive analytics and artificial intelligence in how we generate our forecasts," he says.
"In supply and replenishment planning, we aim to link our production sites in order to have a fully integrated and automated end-to-end supply chain planning to balance demand with supply at optimised inventory levels. Our target will be to react almost in real-time to market demand changes via applications/systems supporting quick scenario planning and recommendations as well as outcome predictions. We will become faster, more agile and at the same time more efficient."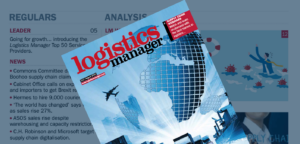 For more on Supply Chain Risk Management check out the August 2020 issue of Logistics Manager Magazine –  available to read online!