Davies Turner chairman Philip Stephenson has called for innovative thinking from the logistics sector in the face of regional trade restrictions and freight capacity pressures resulting from the COVID-19 pandemic.
Last month the 3PL re-commence its fixed-day, weekly direct rail import service from China to the UK in March, after it was suspended due to coronavirus, with the first container due to arrive at its Dartford hub in early April.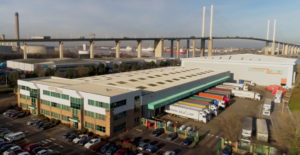 Stephenson said that it was also reconfiguring some of its warehouses to increase capacity and make available a greater number of pallet positions for customers with stock that has been imported, but is not required by end-users at the moment.
He said that this move had created several thousand more pallet slots at our Dartford Distribution Centre for anyone with an urgent requirement for additional storage in their supply chain, and it was replicating the move to "varying degrees" in its other main hubs across the country.
"As a member of the Pall-Ex network since 2005, covering Dartford and adjacent postcodes in Kent as well as south-east London, we are putting our domestic distribution fleet at the government's disposal for the express distribution of critical emergency, medical and food supplies," said Stephenson.
"We have already handled products such as medicines, hospital equipment and testing kits.
"There will be more innovations to come as we seek to help clients old and new with the management of their supply chains in combatting COVID-19 whilst maintaining preparedness for eventual Brexit," he stressed.