Crown demonstrated its QuickPick Remote Order Picking Technology at IMHX. The system allows the truck to be advanced remotely to the next picking position, improving workflow efficiency, and reducing time, effort and costs.
The system was originally introduced on Crown's GPC 3000 order picker and is now available on all the company's order pickers as well as its TC tow tractors.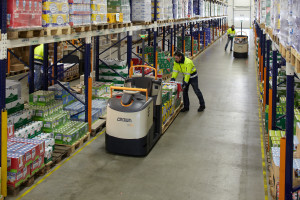 Functionality has been enhanced with QuickPick Remote Lift Technology – giving remote control of lift/lower functions on Crown's ES/ET 4000 stacker models – all via the glove control.
It also used IMHX 2016 for the UK debut of its new WAV 60 Work Assist Vehicle, the Wave, which enables warehouse staff to reach rack positions up to five metres from the ground. It is targeted at applications in retail and manufacturing where staff would otherwise use ladders. It uses AC technology giving travel speeds of up to 8 km/h and highly responsive acceleration, as well as the comprehensive on-board Access 1 2 3 system. It can travel and lift simultaneously, enabling operators to move efficiently around a facility while raising and lowering to the appropriate heights in one seamless operation.