Culina has reached agreement to take over Great Bear Distribution creating a £400 million turnover business employing 5,000 people.
Details of the deal are to be finalised over the coming weeks. "Great Bear and Culina are absolutely complementary businesses, two strong organisations with great reputations, two like-minded companies with similar cultures. This is an excellent fit which is going to be fantastic for staff and for clients," said Culina chief executive Thomas van Mourik.
The merged business will have 7.5m sq ft of warehousing and 600 vehicles.
The Culina Group, which was formed in 1994, comprises Culina Chilled, Culina Ambient, Integrated Packing Services and CML. Its head office is in Market Drayton and it has 18 locations across the UK. Culina Ambient and Culina Chilled provide distribution services for FMCG suppliers.
Integrated Packing Services specialises in contract-packing and re-working services.
CML, which is 50 per cent owned by Culina, provides ambient and chilled services for discount clients.
Chester-based Great Bear was also formed in 1994 and provides dedicated and shared user warehousing and distribution services from 32 locations. It offers both ambient and temperature controlled services.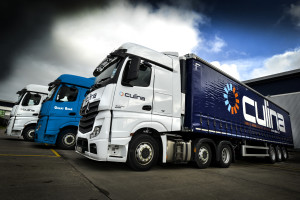 "We are acquiring some excellent contracts, facilities and people," said van Mourik. "This move significantly expands our ambient network and will enable us to benefit from synergies and efficiencies that will improve our service offering to customers even further,"
Glenn Lindfield, chief executive of Great Bear Distribution, said: "The retention of the Great Bear brand name is testimony to the hard work of our people over the past twenty one years. Culina Group recognises that it is investing in a highly successful company with its own great spirit. Culina's aim now is to support our growth trajectory with the added workforce infrastructure and resources of the overall Group."
"The Great Bear board believes this move makes strong commercial sense. The combining of our two businesses will create major opportunities for significantly growing our market share."
Culina has been expanding rapidly both organically and through takeovers. In 2007 it took over Bristol-based Baylis Logistics to create a business with sales of £125m. And in 2009 it took over Wincanton's chilled consolidation activities at the Trafford Park and Gloucester multi-user sites. It bought the logistics business of Cert Octavian in 2012.