Cummins is to transform its factory at Manston in Kent into a logistics centre with manufacturing of generator sets moving to plants in Daventry, Phaltan in India and Wuhan in China.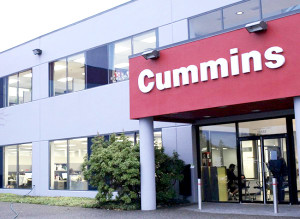 It said the move was in response to weak global demand for the power generation equipment and these changes would best position the company for long-term success.
"The footprint of the Cummins Kent site will be reduced as it is transformed into an important regional distribution and logistics centre."
It expects to take two year to relocate the manufacturing operations. "By relocating our UK generator assembly operations to other locations, we can better balance our capacity with demand, and leverage our global supply chain strengths," said Rich Freeland, chief operating officer of Cummins Inc.
"We believe that making these changes will improve our manufacturing capabilities and processes, enhance our customer service, and generate efficiencies by further integrating our power generation and engine supply chains."
The company, which is based in Columbus, Indiana, has eight manufacturing facilities and employs 4,500 people in the UK.
"Cummins remains committed to our strong presence in the U.K.," Freeland continued, "We are working to implement changes across the globe that create a stronger and more competitive Cummins and underscore our mission and values."
In October last year, Cummins set our a restructuring and cost reduction plan in response to a slowdown in global markets, saying that it would deliver annual savings of $160m-$200m.
"We are taking difficult but necessary actions to lower costs in the face of weak demand in many of our markets." said Tom Linebarger, group chairman and chief executive officer. "Global off highway and power generation markets have been weak for some time and are worsening. Industry orders in key end markets in Brazil and China are at multi-year lows and showing no signs of improvement in the near-term. Given the uncertainty in the global economy, we expect challenging conditions to persist for some time."
In the fourth quarter of 2015, sales in its power generation business were down 14 per cent to $654m while EBIT at $27m was half the figure of the year before.