Davies International has updated its fleet with 10 new temperature-controlled trailers with Carrier Transicold Vector 1950 units.
The new 13.6-metre trailers be will be used intensively seven days per week, covering up to 150,000 kilometres each year. The units offer increased cooling capacity versus the units they replace meaning faster pull-down speeds and the ability to haul larger loads over longer distances.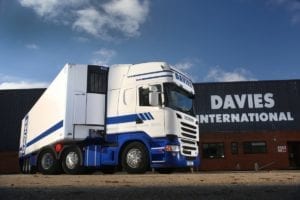 The trailers use Carrier's patented E-DriveTM all-electric technology, which transforms engine power into electricity through a generator, reducing risks of leaks and emissions, reducing fuel consumption and lowering carbon emissions.
"We pride ourselves on carrying the most temperature-sensitive payloads to customers across Europe, so we need a fridge that's up to that task," said Steven Davies, managing director, Davies International. "The fact we kept our previous Vector units in service for 10 years is testament to their build quality, and we have no doubt the new units will deliver the same impressive performance."
The units are backed by Carrier Transicold's comprehensive everCOLD full-service which includes repair and maintenance, annual temperature control testing and certification, full regulatory checks, and access to Carrier Transicold's oneCALL 24/7 incident management service.