Waitrose has started a low emission trial of Carrier Transicold's Syberia TWINCOOL engineless refrigeration unit fitted to a natural gas-powered Scania rigid.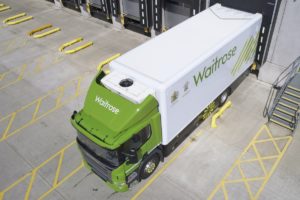 The trial is funded by through Innovate UK and will entail Waitrose working with researchers from the Centre for Sustainable Road Freight at the University of Cambridge on a year-long government low emissions freight and logistics initiative.
The trial will look into how Carrier Transicold's Syberia refrigeration unit, combined with a Scania P280 rigid truck using a natural gas truck engine, can cut CO2 fleet emissions and further improve overall fleet efficiency.
Waitrose vehicle fleet engineering manager Simon Gray said: "We wanted to put the engineless solution to the test and monitor performance across a full 12-month period. The results of the trial will likely guide our future fleet specification – hopefully allowing us to focus on continuing to improve the sustainability of our transport operations."