MAN has handed over pilot vehicles to DB Schenker and the Fresenius University of Applied Sciences for a platooning project to test networked trucks in daily logistics operations.
The cooperative venture established in May 2017 will test truck convoys over a period of several months as part of DB Schenker's scheduled operations in real traffic scenarios on the A9 freeway between Munich and Nuremberg.
It be the first time that professional truck drivers from DB Schenker have replaced test drivers at the wheel.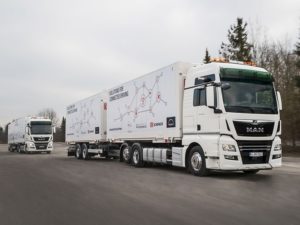 From April, individual runs of the platoon are planned on the A9. To begin with, the trucks will be operating without any cargo to investigate driving conditions in the daily flow of traffic, and to train the drivers involved in the project in operating the vehicles. The drivers will receive intensive theoretical and practical training from the specialists at MAN ProfiDrive and will practice on a driving simulator.
Their experiences, assessments and evaluations of platooning are the focal point of the work at Hochschule Fresenius, which is providing the scientific support for the test drives as the third partner of the cooperative venture.
MAN board member Dr Frederik Zohm said: "We have already proved that platooning technology works in various predecessor projects, such as the European Truck Platooning Challenge in 2016. Adapting this technology to the real every day conditions of the logistics sector is the challenge we are now tackling."
DB Schenker's chief operating officer Ewald Kaiser said: "Autonomous and networked driving will fundamentally change road haulage. This project will focus on testing platooning for the first time in daily logistics operations. So we're excited that we can now integrate the vehicles into the operational test runs."
Once the intensive training phase has been completed, there will be weekly, and then daily test runs. These will be extended to include regular operations with actual cargo during the course of 2018. The platoons will then be deployed up to three times daily between DB Schenker logistics centres in Munich and Nuremberg.