The December 2017 edition of Logistics Manager is now out in print, online and for iPad and Android.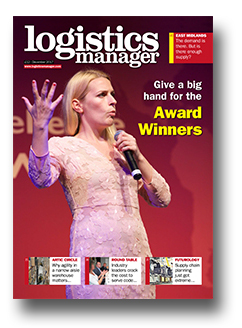 Cover story: Awards Special
The winners of the 21st Supply Chain Excellence Awards were revealed at a glittering ceremony at London's Park Lane Hilton on 14th November hosted by comedian Sarah Pascoe. Find out who won and why…
S&OP: planning just got extreme
The business environment has got more extreme over the past couple of years presenting new challenges for supply chain forecasting.
Analysis
Not business as usual DHL: Supply Chain is developing new areas of activity to drive future growth.
Who controls the last mile: Retail specialist Penelope Ody on why major retailers are investing in their own logistics networks.
East Midlands
Too much of a good thing? The demand is there but is there enough supply?
Forklifts: Articulating the importance
Articulated forklift trucks can be used to fulfil jobs previously done by a combination of trucks.
Loading Bays: The customer is always right
Loading bays are a crucial part of the warehouse, but what do customers want from them?
Click here to subscribe to the print edition of Logistics Manager