The December 2016 edition of Logistics Manager is now out in print and online. It is also available on iPad and Android.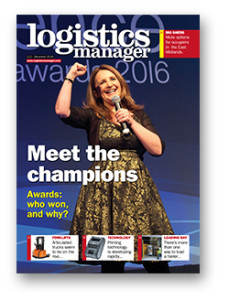 Awards special
Find out who won our prestigious awards, and why.

Golden gates
There's more than one way to load a trailer. Finding the best way could open the doors to huge efficiency, but there are many factors barring the way.

Articulated trucks on the rise
While limited warehouse space is a big problem for the industry, articulated trucks can guarantee improved capacity. But, do alternative machines deliver better rewards?
In the matrix
Printing technology is developing in leaps and bounds, notably with the development of mobile printing systems. But what are the options now available?
Forecasting success
Aligning demand and supply in real-time is a challenging task for many companies. In today's fast-moving markets, it's not enough to have good demand if you can't tie it back to a timely supply response. Industry leaders from various backgrounds explored the role of forecasting in bridging the gap between the two at our roundtable sponsored by E2open.
Surprisingly spacious…
Availability, although not overly abundant in the region, is allowing occupiers a variety of options.
Hot in the City
Cities are crowded places at the best of times but when you are looking for logistics space it's just that little bit more challenging: are there any solutions?
---
Click here to subscribe to the print edition of Logistics Manager