DeliveryApp, a Manchester-based tech start-up, has experienced a period of substantial growth over the past eight months following significant investment in January 2021.
The technology-based logistics platform connects independent couriers with end users for fast deliveries through its Apps (available on Google and Apple stores) and website.
It has formed a network of more than 700 independent couriers across the country who will collect and deliver parcels personally. That ever-expanding driver network is, in part, as a result of what the company calls an "ethical approach" to its drivers.
Drivers can earn a higher price per mile, take control of their own jobs without difficult-to-achieve targets and will be paid quickly as a result of its fast, full automated payment system. This framework has been developed through driver focus groups to create a platform that understands its audiences.
"Our platform lives and breathes through our drivers – if they're not happy, we're not happy," commented Ioannis Verdelis, Co-founder, DeliveryApp. "So, during our development phase, we channelled just as much energy into creating an eco-system which works as well for them, as it does our end users booking deliveries. Faster payments, fair pricing and being in-control of their own deliveries were all important objectives for us to get right from the outset."
The App which is in BETA phase 3.1 and went live across App stores in May has been experiencing rapid growth as its reputation and network starts to build organically.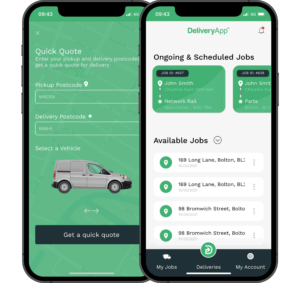 "Our customers are on the whole driven by two things – price and trust," continued Verdelis. "They want to get the best-possible price for their delivery, and they want to be confident it's going to make the journey unscathed. Our transparent pricing through the platform means they can very quickly calculate the cost of their delivery, and thanks to our technology-based infrastructure, we cost around a third less than the competition.
By the end of August, DeliveryApp had signed up over 500 businesses including ReachPLC, Transport for London and Pets at Home.
"DeliveryApp is an incredibly exciting business to be a part of," said Justin Blackhurst, Co-founder. "The logistics industry has on the whole been sluggish and a little reluctant to adopt new technologies. DeliveryApp brings these new intuitive consumer technologies and capitalises on the demand at people's fingertips. Whether you're an individual selling something on Facebook marketplace and want to provide a price for getting a bed or sofa from one side of the city to the other, or you're a business using 50 couriers a week, DeliveryApp provides a slicker, cost-effective solution."