IDI Gazeley's planning application to create a 1 million sq ft warehouse for DHL at its Magna Park Lutterworth scheme in the East Midlands, has now been approved by Harborough Council.
Last month, the council said it would reconsider the plans after following legal advice regarding the nearby Bittesby Deserted Medieval Village – a local heritage site.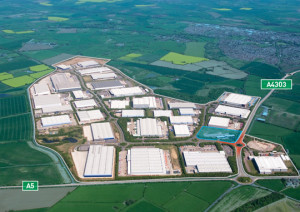 IDI Gazeley's application relates to land to the north west of Mere Lane, Bittesby, near Lutterworth.
It proposes a 1,085,475.782 sq ft storage and distribution centre with offices on land adjoining and linked to Magna Park, including the formation of an access road from Magna Park, erection of a gatehouse, creation of roundabouts, partial realignment of Mere Lane, an upgrade of the A5 road to dual carriageway, the creation of drainage facilities and the associated infrastructure and landscaping works.
"It was of the utmost importance to the council that this application was reconsidered in order to make sure all national planning policy is taken into account," said Cllr Jo Brodrick, Harborough District Council's portfolio holder for planning and regeneration. "This has been done and a decision reached. I would like to thank those who gave their time to speak at the meeting."