DHL Parcel is investing £6.7m to increase its fleet capacity including 45 Volvo tractor units, 24 Volvo rigids and 29 Don-Bur double deck trailers.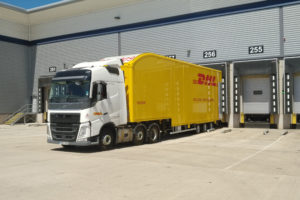 The lifting deck trailers have twice the capacity of traditional trailers are fitted with "EcoStream" aerodynamic front curved roof sections which have been reported to save up to 16 per cent in fuel compared to standard flat roofs.
The rigids will largely operate in urban areas, and were selected for their additional lower passenger door glazing panels and a second side window behind the passenger door, which gives better visibility of pedestrians and cyclists.
Scott Laird, vice president of operations at DHL Parcel, said: "The investment in our fleet is part of the infrastructure upgrade the business requires to support growth. However this is also an opportunity to ensure drivers are equipped with the latest technology to ensure their safety and that of the public."