DHL has ordered 14 Boeing 777 freighters in a deal worth some $4.7 billion. The order, unveiled at the opening of the 2018 Farnborough Air Show, includes purchase rights for an additional seven freighters.
"We are delighted to announce the acquisition of 14 new 777 Freighters as we renew part of our long-haul fleet with this best-in-class fuel efficient freighter type that will make a significant step towards DHL's zero emissions target by 2050," said Charlie Dobbie, executive president of global network operations & aviation.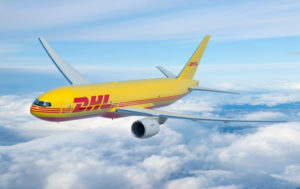 DHL's investment in the 777 Freighters comes in response to the growing demand for global express capacity. Cross-border e-commerce sales are forecast to grow by more than 19 per cent a year to reach $4.48 trillion by 2021.
The B777 is the largest twin-engine cargo aeroplane, and is capable of flying 4,900 nautical miles with a cargo load of 102 tons.
DHL was the first express operator in 2009 to introduce the 777 for long-haul time critical services. The new order will double the size of DHL's global 777 fleet.
Qatar Airways also finalised an order for five 777 Freighters at Farnborough in a deal valued at $1.7 billion.
The carrier operates a fleet of 13 777 Freighters and two 747-8 Freighters. This latest order will expand its Boeing Freighter fleet to more than 20 jets.