DHL is to deliver the Delft Hyperloop, a capsule developed by students for the quick transport of goods and people in tubes, to California on its freighter plane. The logistics company are transporting the capsule for tests as part of the 'Hyperloop Pod Competition' run by well-known American entrepreneur Elon Musk.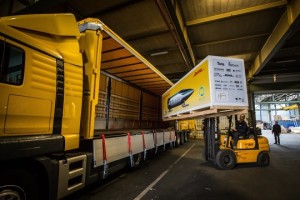 "In our efforts to stay ahead of the curve, DHL is continuously looking at ways in which our own business could be enhanced or renewed over the near and long-term," said Ken Allen, CEO, DHL Express. "As the quickest option available in today's world when it comes to global door-to-door transport, we are also happy to support any initiatives that look to push the boundaries of logistics to new levels of speed and efficiency.
"We therefore welcomed the opportunity to bring our capabilities, knowledge and global network to bear in support of the TU Delft team as they built a viable Hyperloop prototype."
---
DHL launches digital freight platform
DHL Freight has launched CILLOX, a virtual marketplace for transport needs. The platform enables businesses to match their full, part and less than truck load offerings with 'transport providers' capacities and find the appropriate provider according to their needs'.
"Both companies and carriers benefit from this new business model," said Amadou Diallo, CEO DHL Freight. "With CILLOX, DHL offers a solution to promote the digitalisation of the logistics industry and disrupt the traditional road freight business.
"The launch of the platform is a result of our strategy 2020 and promotes further growth due to its innovative and agile business model.