DHL Supply Chain is to open a new 150,000 sq ft facility at Avonmouth.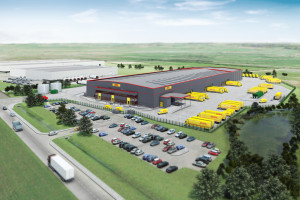 The site, which will be an extension of DHL's existing operation at Avonmouth, is expected to complete in January 2018.
In total, the new facility represents an investment of €24.75 million. The new site will include a 30,000 sq ft tri-temperature controlled cross-dock chamber, and an ambient cross-dock chamber of approximately 110,000 sq ft.
"We are delighted to be starting work on our new site at Avonmouth today," said Phil Roe, managing director, transport, engineering, energy & chemicals, DHL Supply Chain. "This project represents a key step in our ability to provide better service to customers in South West England and Wales.
"The new site means that customers no longer have to serve regional locations direct from a national distribution centre and can benefit from vehicle types optimised for final mile collection and distribution.
"With dock-levellers capable of handling double-deck trailers, the new site also means we can trunk goods on the largest and most efficient trailer size available, reducing the number of miles run and reducing congestion and noise pollution."