The world's largest 3PL, DHL, has warned investors that it will not be able to avoid the impact of coronavirus on the worldwide economy, as it revealed record profit levels.
For 2019 Deutsche Post DHL Group achieved 2.9% revenue growth to €63.3 billion (£56 billion), while operating profit increased 30.6% to €4.1 billion.
Frank Appel, chief executive at Deutsche Post DHL Group, said: "Thanks to our broad geographic set-up and our comprehensive portfolio we are in a very robust position and more resilient than other companies in our sector.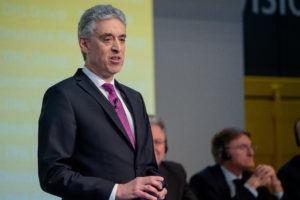 "We succeeded in growing further in all areas and generating record earnings despite the challenging global economic environment in 2019. Of course, we cannot disconnect completely from the global economy.
"We will not remain entirely unaffected by this worldwide crisis. However, it is currently much too early to judge its financial impact."
In its he Supply Chain division global revenue increased 0.6% to €13.4 despite the sale of its Chinese business to S.F. Holding in the first quarter 2019. It said that the division concluded additional contracts worth €1.2 billion with both new and existing customers during financial year 2019.
It also revealed that operating profit was up significantly to €912 million, compared to €520 million in 2018, predominately as a result of one-time effects generated from the sale of the Chinese business, which it said contributed €426 million to division EBIT.
DHL said that it reinvested a portion of the proceeds of the transaction in restructuring its business – mainly in the UK – with the goal of improving future profitability.