Property developer IDI Gazeley has won planning approval to expand its 573-acre Magna Park Lutterworth scheme in the East Midlands.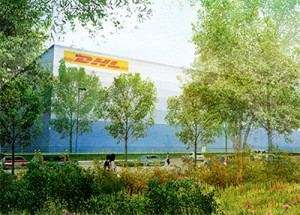 It has secured detailed planning for the development of a 1,085,476 sq ft warehouse for DHL.
During the packed planning meeting held last week, Gwyn Stubbings of IDI Gazeley said that demand for space at Magna Park was high. He added that companies including Costco and Primark had left because the existing scheme could not meet their planned expansion.
Two more applications have also been submitted – to be considered at a later date.
IDI Gazeley has an outline application for a further 3.5 million sq ft awaiting a decision while rival developer dbSymmetry is looking to develop up to 3 million sq ft to the south of the park.