Digital twinning technology deployed by Unipart Logistics been at the heart of a custom-built warehouse development for NHS Supply Chain in East Anglia.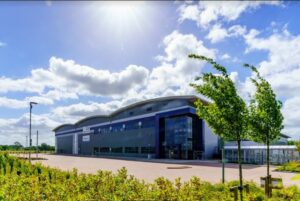 NHS Supply Chain Suffolk Park, a custom-built regional distribution centre (RDC) located in Bury St Edmunds and operated by Unipart Logistics, opened as planned on Wednesday 27 May 2020.
Spanning 147,000 sq ft of space, the new site is twice the footprint of the existing Bury St Edmunds site and has been designed to meet the future needs of the NHS Supply Chain network and its customers.
Digital twinning had proved crucial in the NHS Supply Chain Suffolk Park build, Unipart said, as it enabled layout modelling for the new site to take place remotely, without the need for unnecessary travel and to ensure ongoing social distancing.
Unipart utilised the latest three-dimensional laser scanning technology to capture and replicate an exact digital twin of the Suffolk Park building. To restrict numerous visits to the site, Unipart used the digital rwin of the site to check measurements and test countless different solutions remotely.
All layouts and operational solutions were designed and thoroughly tested using the digital twin, and its simulation capability, eradicating errors, identifying cost savings and improving safety. All aspects of the project were reviewed by project leads through virtual and augmented reality of the digital model.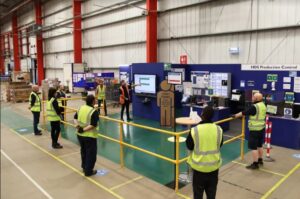 Digital Twinning is also being used at the NHS Supply Chain site in Bridgwater, Somerset, to support agile resource management and stock allocation. Unipart also used the technology to consider one way routes across site, minimising the risk of spreading the virus, whilst limiting the impact on productivity. The digital twin enabled the team in Bridgwater to reduce the number of visitors on site by providing virtual tours with no risk of contamination.
Covid Secure
NHS Supply Chain Suffolk Park has the capacity to accommodate a broader range of products, which it said would lead to efficiencies elsewhere in the network.
The site supports the NHS Supply Chain sustainability agenda and was designed to maximise the use of natural resources, including rain water and solar energy.
The Covid-19 pandemic posed some unique challenges during the build, for which Unipart deployed innovative Digital Twinning technology (see box-out) to ensure deadlines were met without compromising safety through unnecessary travel to the new site in an age of social distancing.
As the new RDC opened during the peak of the Covid-19 pandemic, Unipart introduced "Covid-19 Secure" working, as it has done at all its logistics sites, complying with UK government guidance and with Unipart's own stringent policies on safety, for which the company has just been awarded country winner at the British Safety Council International Safety Awards. This has included strict social distancing, handwashing, physical cleansing and protective workwear as the standard for all operations.
An online tool, the Social Distance "S" is used by teams at Suffolk Park every day to capture their experience and audit the way in which standards are being used, particularly around social distancing.
Chris Holmes, supply chain director at NHS Supply Chain, said: "I would like to thank all the teams that have been involved with this project for all their hard work and dedication to getting this new site opened on time as planned. This is a significant milestone in our transformation journey which aims to continuously improve our service offering for our customers.
"Our new custom-built distribution centre has Unipart's core safety standards at the heart of the operation, as well as being Covid-19 secure.  Unipart displayed agility and innovation to deliver this on time in the current environment, prioritising the safety of its people at all times."

The 24th Supply Chain Excellence Awards, with new categories for 2020 including the Warehouse Initiative Award and Best Use of Robotics, Sponsored by Unipart Logistics, will take place on 12 November. For more information, including how to enter and sponsorship opportunities, contact daniel.jessop@akabomedia.co.uk