The HGV Road User Levy for Euro VI vehicles will be cut to £900 from February 2019 from the current rate of £1,000. But the rate for Euro V vehicles will rise to £1,200, under plans unveiled by roads minister Jesse Norman.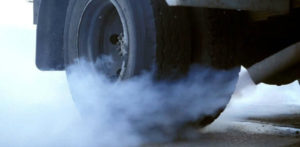 The government reckons that the cleanest lorries generate 80 per cent less nitrogen emissions than dirtier ones.
"Heavy goods vehicles account for around a fifth of harmful nitrogen oxide emissions from road transport, but they only travel five per cent of the total miles," said Norman.
"That's why we're changing the HGV levy to encourage firms to phase out the most polluting lorries and bring in the cleanest ones."
The moved has dismayed the Road Haulage Association, while the Freight Transport Association warned that SMEs would be particularly hard hit.
RHA chief executive Richard Burnett said: "We're at a complete loss as to understand Government's latest decision to inflict yet more pain with another tax hike on hauliers."
The RHA estimates that 56 per cent of UK-registered Euro V trucks (and earlier) will be hit with the rise.
Burnett said: "What's needed is a realistic scrappage scheme that supports our industry during this transition, not a penal approach."
Christopher Snelling, the FTA's head of UK policy, said: "The introduction of the increased levy on pre-Euro VI trucks will actually hurt those small and medium sized business that already face increased costs as they need to upgrade to Euro VI vehicles early to be compliant with the planned Clean Air Zones."