Doddle, the parcel collection shop, has launched a new service sending a "Runner" to collect goods direct from the customer at an hour's notice.
The service, which is starting in the City of London, provides next day delivery.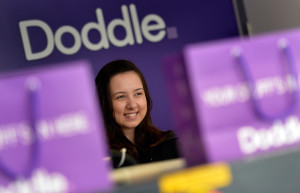 The customer uses an app to provide details of location, object and destination. Doddle then send a runner to collect the object, wrap it and send it by a next day UK delivery service.
For £5 + postage, a runner will collect up to five parcels and send them. Parcels must be less than 16 kilos.
Once the Runner has taken the parcels back to the Doddle store, the final postage cost is calculated and sent to the customer along with the tracking reference.
Customers returning online purchases to one of Doddle's retail partners, don't pay for postage. They just pay the £5 for the runner to collect the returns.
The service is currently operating in EC1 – EC4 postcodes. The plan is to roll it out across London and beyond. Doddle Runners will collect and send all the items that can be sent via a Doddle store.
Doddle is a joint venture between Network Rail and entrepreneur Lloyd Dorfman. It currently has a network of 37 stores at railway stations around the country.