Panther has won a contract with window and door manufacturer Euramax Solutions. The Northampton-based logistics company, which specialises in two-man deliveries, was chosen with the aim of cutting Euramax's carbon footprint, improving its supply chain and reducing outlay.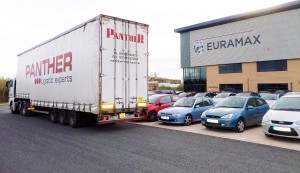 Panther now delivers a range of uPVC products, built at Euramax's operations centre in Barnsley, for big names including Wickes and Screwfix. It now delivers about 280 consignments for Euramax every week.
Before this contract was agreed, Euramax used a delivery specialist to move bulk freight – which resulted in a significantly large carbon footprint travelling to and from each base. Panther works within Euramax's new factory – which means a reduction in its carbon emissions.
"Since joining forces with Panther, we have seen many improvements to the business, including full visibility of what's being delivered to the customer's door – which previously Euramax didn't have," said Nick Burton, purchasing manager of Euramax Solutions. "As a business we now also have that visibility on any returned items, Panther has helped with managing this process, which has proved to be very effective".