DX Group has cut its loss by 43 per cent in the first half as the turnaround plan launched last year took effect.
The EBITDA loss was down to £2.5 million in the half year to 31st December 2018 from £4.4 million loss the year before.
First half revenue rose seven per cent to £157 million driven by growth in the DX Freight division.
Chief financial officer David Mulligan highlighted the work that has been done to return DX Freight to profitability.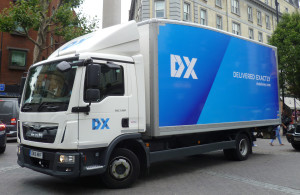 At the core of the transformation programme has been a devolution of responsibility to depots and services centres. At the same time there has been a strong focus on strengthening the sales function he said.
As a result, DX Freight saw revenue rise 16 per cent to £78 million, while the EBITDA loss was cut from £8.1m in 2017 to £5.5m.
The division has re-opened two mothballed depots: Cannock and Pucklechurch. And it plans to open a new depot at Maidstone this year. It is investing in more 7.5 tonne trucks to reduce the number of 3.5 tonners currently in the fleet. It is also investing in partial mechanisation at the hub and four regional sites to improve efficiency. It is also putting more focus on growing its B2B business.
In the DX Express business, the group is focusing on growth in the Courier and Secure divisions, said Mulligan. DX Courier increased revenue by nine per cent to £30.1m while DX Secure revenue was down by £700,000 to £23.3m. DX Express has just retendered for its contract with HM Passport Office which is due to end in October 2019. It expects a decision in April.
Revenue at DX Exchange, the exclusive members network, was down £1.7m to £23.9m. Mulligan highlighted the fact that the rate of attrition in this business had slowed from 12 per cent a year to eight per cent a year.
Overall, revenue at DX Express was flat at £79m, while EBITDA was £11.6m, down 18 per cent on last year.
DX chairman Ron Series said: "A fundamental element of our turnaround strategy is devolving accountability to our local depots and service centres and this has now been implemented across the Group. Alongside this, we have restructured our sales teams, introduced new pricing policies and are focusing on operational efficiencies and service levels across both Divisions.
"These initiatives are now beginning to bear fruit and DX remains well positioned for further performance improvement. Trading in the second half has improved over the same period last year and we remain confident of achieving our targets for the full year."
Liad Meidar, chief investment officer at Gatemore Capital Management, DX's largest shareholder, said: "We are pleased by today's results, which are a further sign that DX Group is heading in the right direction. We remain confident in management's ability to implement its plan to deliver long term growth, and look forward to continuing to work with the team."