Deutsche Post DHL is writing off €345 million in its Global Forwarding business as it abandons its New Forwarding Environment (NFE) IT programme.
On top of that, the group is writing off a further €200m which it said "relates mainly to the current reassessment of legal and regulatory aspects in the Post – eCommerce – Parcel (PeP), Express and Global Forwarding, Freight divisions'.
As a result, the group said it now expected EBIT for 2015 to be a minimum of €2.4 billion. That compares to the forecast in August that EBIT would reach between €2.95bn and €3.1bn for the year.
The €345m write-off in the Global Forwarding division is the result of a decision to abandon the NF) transformation programme and implement a step-by-step replacement and upgrade of its IT set-up.
It includes a €308m write-down of assets capitalised in relation to NFE, plus €37m of provisions to cover expensed for an expected roll-back of NFE in the countries where it was piloted.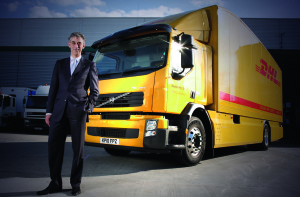 Group CEO Frank Appel said: "As we have said previously, 2015 is a year of transition. Accordingly, we are taking all the measures we can to ensure that our business divisions are optimally positioned for success in the coming years. Our objective for a renewal of our forwarding business remains valid. We are now undertaking further measures to make this renewal business-centric."
The group said it expected Total EBIT in 2016 to be back on track at €3.4bn to €3.7bn.
The Global Forwarding business will now adopt an "IT renewal approach that best supports improvements in operating performance, such as enhancing shipment visibility through better capture, management and display of operational milestones, and reduction of paper work through greater use of a document management system which has already been proven in our US business".
The group is still in discussion with vendors including the NFE implementation partner, and remains committed to allowing the NFE implementation partner the opportunity to fulfil its contractual obligations, it said.
The problems in the Global Forwarding Freight division were revealed earlier this year when the division's operating profit experienced a sharp decline to €17m in the first quarter (2014: €49m). "This is due to on-going margin pressure in the overall market, as well as direct and indirect costs related to the transformation programme," the group said. Roger Crook, who headed the division, resigned at the end of April 2015.