The East Midlands dominated take-up levels in 2019 according to property consultant Avison Young accounting for 7.4 million sq ft of activity nearly one third of the total take up of 22.1 million sq ft.
There was activity across a broad range of sectors during 2019; however non-food retail (35%), third party logistics (26%) and the manufacturing sector (23%) dominated.
Continuing the trend of the past few years, design and build take-up has accounted for more than 50% of activity and nine of the largest ten transactions in 2019. It is encouraging that speculative take-up accounted for more than 5 million sq ft, its highest level since 2016 and reflective of the higher level of recent speculative completions.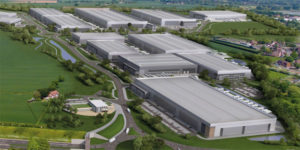 Supply levels have increased to 31.3 million sq ft, up from 29.5 million sq ft in June, attributable mainly to an increase in existing stock. While the overall level of speculative supply has remained steady, the amount under construction has fallen 20% to 5.6 million sq ft, reflecting a fall in the number of starts throughout 2019. Despite an increase in supply, overall levels are still constrained. While there is some regional variation, all regions have between one to two years' supply.
Robert Rae, principal and MD, said: "Now there is a clearer political outlook, we are seeing greater business confidence, a release in pent-up demand and more transactional activity. We expect this to continue, certainly for the first half of 2020. A number of companies will bring forward their property plans which we expect to be reflected in healthy take-up figures."
The total volume of investment for distribution warehouses across the UK amounted to £2 billion during H2 2019, which is a significant improvement on the first half of the year. This brings the total for the year to £3.22 billion, just 1 per cent down on the five-year average.
Deals in the pipeline in the distribution sector indicate a robust level of activity for 2020. The strong growth in e-commerce and requirement for last mile delivery has generally insulated the sector from political and economic headwinds that have affected other sectors. With demand levels remaining robust, the increase in supply coming to the market will likely be absorbed and there remains a strong appetite from developers and funds for speculative development to meet requirements.