With available space in short supply, the East Midlands and East Anglia is looking for speculative development to meet demand. Liza Helps reports.
There is now less than one year's supply of good quality logistics space in the East Midlands. Avison Young's Andrew Jackson says: "There is somewhere in the region of four million sq ft of [Grade A] space; and, compared with take up in 2015 of 4.6 million sq ft, that means there is less than one years' supply."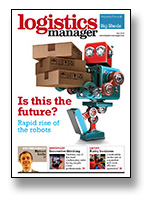 However, he adds: "It doesn't tell the whole story; take up includes build-to-suit but even so, stripping that out leaves supply at just under two years – and given the choice, occupiers will prefer to take an existing building."
Luckily the East Midlands commands a substantial supply of speculative development. According to Cushman & Wakefield's Property Times research at the end of 2015 speculative development in the East Midlands accounted for some 24 per cent of the total amount of speculative development to be found in the UK. Jackson notes that so far this year some 1.65 million sq ft has already been taken up.
Indeed, Simon Lloyd of Cushman & Wakefield says: "While there is quite a bit of new build coming through we anticipate that those will be let in short order – demand is robust for existing stock."
Stuart Mair of CBRE agrees: "Nearly all speculative units go prior to or shortly after completion."
Goodman's 304,000 sq ft speculative unit at its 22-acre Northampton Commercial Park development was snapped up by John Lewis prior to completion. The unit known as Unit A, which is due to complete shortly, has 15m eaves, 26 dock and four level access doors, 38 trailer spaces and 224 car parking spaces and will have a 50m yard.
A smaller 161,000 sq ft unit has yet to be let. Letting agents are JLL and Lambert Smith Hampton.
In a similar way clothes retailer Ted Baker took Goodman and Anglesea Logistics Partnerships 323,895 sq ft Angle325 warehouse at Derby Commercial Park, prior to completion.
The new unit which was let at a rent of £5.95 per sq ft, will feature 38 dock and four level access loading doors, 102 HGV parking spaces, a 55m service yard, and a 15m clear height. Letting agents were CBRE, DTRE and Moriarty & Co.
Goodman also has planning consent for a 550,000 sq ft warehouse and distribution depot at Derby Commercial Park. Letting agents at the park are Innes England, CBRE and DTRE.
It is not a surprise then that developers are pushing forward with speculative development. Wilson Bowden and M&G Real Estate have two units at the 65-acre Optimus Park near Glenfield, Leicestershire.
Optimus276 totals 276,690 sq ft and boasts 12.5m eaves, 12,360 sq ft of offices, 28 dock and four level access doors, a 50kn/sqm floor loading, 48 HGV and 233 car parking spaces and a yard depth of 59m. The other unit, Optimus205 has 12.5m eaves, 9,904 sq ft of offices, 20 dock and four level access doors, 41 HGV and 175 car paring space with a 57m yard. Both units are being marketed by joint agents Avison Young and Burbage Realty at quoting rent of £6 per sq ft.
Nearby First Industrial and Clearbell are speculatively developing a 224,965 sq ft facility at Interlink Park, Bardon, Leicestershire. The unit, to be known as 225atInternlink, is being let by joint agents CBRE and JLL.
Then there is Conder Development's DVP118 totalling 118,000 sq ft at Dove Valley Park. The speculative warehouse will have 12m eaves; eight dock and two level access doors and be built to BREEAM 'Very Good' standard. Letting agents are MWRE and BNP Paribas Real Estate.
Prologis is moving forward with two units of 215,262 sq ft and 85,262 sq ft at the third phase of Prologis Apex Park in Daventry, which will complete in April 2016. Letting agents are Lambert Smith Hampton and Burbage Realty.
IDI Gazeley is also speculatively developing warehouses; one totalling 297,320 sq ft in Daventry, known as Daventry Distribution Park, which has 28 dock and three level access doors and 230 car and 120 HGV parking spaces as well as a 50m yard and 12.5m eaves. Letting agents are Savills and Cushman & Wakefield. It is also developing another warehouse at its Magna Park Lutterworth scheme totalling 186,097 sq ft. The unit will have 12.5m eaves, 17 dock and two level access loading doors as well as 36 HGV and 178 car parking spaces. Letting agents are CBRE and Colliers.
It's not just speculatively built units that are letting quickly. Second hand space where it is available is also much sought after; indeed rent levels are as high as for new build.
Ranjit Gill of Savills notes: "There are a number of units coming on the market at Magna Park Lutterworth with quoting rents at £6 to £6.25 per sq ft but that just reflects their scarcity."
New to the UK market online furniture retailer Wayfair has snapped up the 258,000 sq ft ex-Costco unit at 4400 Magna Park Lutterworth. The property had a quoting rent of £6.50 per sq ft through joint letting agents Colliers and Burbage Realty.
A number of other second hand units at Magna Park have secured strong interest from potential occupiers these include SEGRO's 418,000 sq ft ex-Primark facility, which is being marketed by Avison Young and JLL with a quoting rent of £6.25 per sq ft. There is also Pickering Properties 230,000 sq ft unit, which is also part of the Primark facility though in separate ownership.
While there may not always be immediate supply there are schemes being brought forward but as Bruce Topley of IDI Gazeley says: "Getting land consented and pushing through the planning regime can take time."
Those developers that have already secured planning are pushing ahead with infrastructure works and getting schemes as oven-ready as possible. These are certainly schemes that could entertain build-to-suit.
These include Prologis 7.86 million sq ft DIRFT III development as well as its 80-acre extension to Prologis Pineham that could take up to 1 million sq ft. In addition there is Roxhill's recently consented six million sq ft rail related scheme to be known as East Midlands Gateway.
Warwickshire-based IM Properties with First Industrial can accommodate a 450,000 sq ft plus unit on its 45-acre site off the M1 in Eastwood, Nottingham known as Nottingham 26. Letting agents are Fisher Hargreaves Proctor, Avison Young and Dove Haigh Philips.
Sladen Estates snapped up Prologis' former 45 acre site in Mansfield and is now promoting Summit Park which could provide up to 900,000 sq ft of space in units from 5,000 – 350,000 sq ft. Letting agents are Commercial Property Partnership, Avison Young and Lambert Smith Hampton.
Roxhill has a variety of other sites in the region including CIRFT in Corby where there is permission for an 880,000 sq ft rail connected warehouse. There is also its 240-acre Peterborough Gateway located adjacent to junction 17 of the A1(M) motorway. The site has planning consent for 5 million sq ft of industrial buildings, including individual buildings of up to 1.3 million sq ft. House of Fraser is believed to be looking to buy a 30-acre plot there for a 620,000 sq ft warehouse. Avison Young, Burbage Realty, Bidwells and Barker Storey Matthews are letting agents on Peterborough Gateway.
Intermodal
Roxhill also has a 65-acre site in Burton Latimer that could accommodate up to 1.2 million sq ft, which it is progressing with joint venture partner SEGRO.
Schemes that are making their way through planning include Goodman and Shepherd Group's proposals for Severn Trent's 619-acre site at Etwall to be known as the East Midlands Intermodal Park that could provide up to six million sq ft of rail related warehousing in units from 235,000 sq ft to 1 million sq ft. Subject to all approvals it could be up and running by 2018
The same holds true for the extension to Magna Park Lutterworth where IDI Gazeley has put forward plans for a 590-acre extension on land to the north that could accommodate up to 6 million sq ft. The company has already secured DHL as an occupier for a 1.3 million sq ft facility, which is due to be built shortly.
To the south of the park Barwood and Delancey joint venture DB Symmetry, has put forward proposals for a 200-acre expansion to be known as Symmetry Park that could accommodate a possible 4 million sq ft.
Gladman's Vertical Park on the site of the former Bevercoates colliery, in Nottinghamshire has outline consent for a single facility of 2 million sq ft with a 30m eaves height. Letting agents are Lambert Smith Hampton and Cushman & Wakefield.
Over at the Nailstone Colliery in Leicestershire just off Junction 22 of the M1 motorway Curtis Hall is pushing a 1 million sq ft development opportunity known as Midas22. Sole agents are Cushman & Wakefield.