Eddie Stobart Logistics has continued its buying spree, taking full control of The Logistics People, the Kettering-based commercial vehicle driver agency.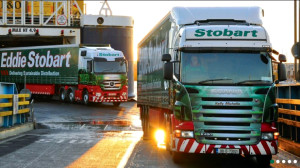 It has paid £6 million for the 50 per cent of TLP Holdings Ltd that it did not already own, it revealed in its half year results.
Chief executive Alex Laffey said the move was "consistent with our strategy to use and develop the skills and services of the Eddie Stobart Training Academy through the provision of a range of training services and the supply of qualified drivers and warehouse operatives to customers and other logistics service providers".
The deal follows the acquisition of iForce for £44.9m in April, and a 50 per cent stake in Speedy Freight for £4.1m in July.
Eddie Stobart Logistics, which floated on the Aim market in April, increased sales by 13 per cent to £286.8m in the six months to 31st May, while underlying EBIT was up 14 per cent to £16.9m.
However, costs associated with the flotation, the acquisition of iForce, and other exceptional items, meant that it made a loss for the half year of £6.3m compared to a profit of £1.7m the year before.
Laffey said: "These results reflect continuing organic growth within our existing customer base as well as over £25m of new annualised contract wins in the period (the majority benefit of which will be felt in the second half) and the full period effect of the £65m of new contract wins from 2016. Our new business pipeline remains strong with a rolling portfolio of new business opportunities being actioned, the majority of which are in the E-Commerce and MIB sectors."?
Laffey said that to date the iForce Group had traded to expectations "and leveraging synergies and cross-selling opportunities between the two organisations has already commenced".
The company has been refocusing its business on its new target sectors over the past 18 months, but, said Laffey, "this has led to a slight decline in our retail sector turnover during the period due to the expiry of an unprofitable contract that we did not renew in Ireland. A large proportion of that reduction was offset through growth with our other retail clients."