Eddie Stobart Logistics increased sales by 12 per cent to £618 million for the financial year to 30th November, the company said in a trading update.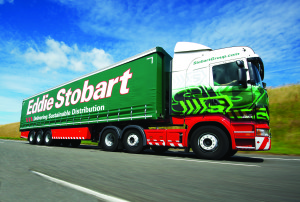 Underlying operating profit (EBIT) was in line with expectations, it said.
It saw double digit growth in a number of business sectors including -Commerce, Manufacturing, Industrial and Bulk (MIB) and Retail. And it said the recent acquisitions of iForce, Speedy Freight and The Logistics People continue to perform strongly for the Group.
E-commerce sales grew to £103m from £49m in 2016 with eight new contracts won since the acquisition of iForce, including Made.com and Wolseley, and the segment remains on track to achieve the Group's target of 25 per cent of Group revenues in FY19.
MIB sales grew more than 37 per cent1 to £182m in the period, while retail sales were up by  by 11 per cent.
Chief executive Alex Laffey said "We are pleased with our performance during the year and to have delivered strong profit growth in line with expectations. The last quarter of the financial year saw a marked increase in contract wins some of which have now commenced and provide good visibility for the current financial year.
"Christmas trading across the Group was in line with our expectations. The new financial year has commenced well with growth ahead of prior year across all sectors and further new customer contracts agreed with Homebase, Cemex and Knauf."