Eddie Stobart is to trial a new SDC fuel saving Kinetic Energy Recovery System (KERS) curtainsider, which can reduce fuel consumption and emissions by up to 25 per cent.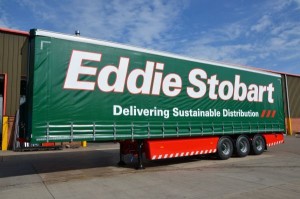 According to SDC, the new system can also 'significantly' reduce brake wear.
"Operator efficiency was the driving force behind the Kinetic Energy Recovery trailer innovation," said Jimmy Dorrian, head of engineering at SDC.
"Our customers are always looking for ways to reduce their fuel consumption and overall carbon footprint, especially in demanding applications such as heavy terrain or continuous urban transport."
The 13.6m curtainsider uses a hybrid system that includes a bank of high-power ultra-capacitors, and an electrically driven axle. This captures energy loss and uses it to re-power the vehicle.
When a driver brakes, the motor acts as a generator, which recovers kinetic energy that would otherwise be lost through heat. This is then stored in the ultra-capacitors.
The 'futuristic' technology is managed by an intelligent management system that is able to track driver input, and this controls the boost and regenerative braking.
The curtainsider will feature Eddie Stobart livery and be showcased at the upcoming Commercial Vehicle show.