Retailers are big and heavy, goes the argument. They have bricks and motor infrastructure, they have old, legacy logistics networks. They can't keep up with the agile online retailers….
Dedicated e-commerce companies took 25% of all floorspace let and sold in the UK in 2019, according to research by JLL.
What that figure doesn't tell us is how much e-commerce is spending on shipping goods directly to customers, and what the yield on that delivery is.
After Amazon's Q3 results back in October (it reports Q4 and full year on 30 January) The New York Times reported a Morgan Stanley analysis that that for one-day shipping, the typical order is $8.32, and Amazon spends $10.59 to fulfil and ship it.
If you work in retail, would you tell your boss that?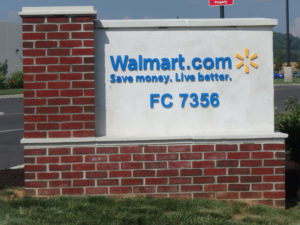 Retail rival Walmart is stepping up to the challenge of its trillion-dollar valued rival. It has 5,358 stores in all 50 states. Each one is a big box, so it doesn't have to invest in physical warehousing to increase its online sales volumes. It can just stock the goods in store at no extra cost. It also has a fleet of 6,000 trucks to deliver goods to those stores. No retailer in the world can match its logistics.
In the UK Amazon has 22 fulfilment centres, after opening in Darlington at the end of last year. Amazon has been snapping up sheds across the UK, because it needs to get closer to the customer and reduce its logistics costs. Prior to opening in Darlington it had not fulfilment centre in the north-east of England… Doncaster was the closest.
But who does have a footprint in the north-east? Every bricks and mortar retailer going. And major retailers that have invested in locations, and the logistics to ship goods to those locations has an inherent advantage. The cost is already built in.
The biggest problem though is making it easy for the customer to come to the store to get the goods. But people go out, take kids to the park, meet friends, click and collect is just as convenient – if not more so for some items – as same-day home delivery.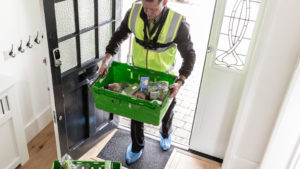 Where retailers can now succeed is leveraging home delivery – especially of groceries. Make it easy for the weekly shopping delivery to add clothes to an order. Parents would love the ease of food and a new school uniform arriving on a Sunday morning when shops are forced to be shut.
Retailers need to take it to the next level though and open up their product lines to other brands. Make it easy for a Waitrose order to add a Joules coat. The Tesco delivery to add an H&M t-shirt.
It would take a considerable shift for retailers to see their in-house logistics infrastructure as something they can sell in the same way a 3PL would. But where Amazon has succeeded is by adding 373,000 businesses to its list of sellers. If you have an in-house logistics infrastructure, leverage it and sell the space, otherwise you're moving fresh air. As they would say in the US, this is logistics 101…
Christopher Walton, Editor, Logistics Manager