Three prototype Tevva Motors electric commerical vehicles have collectively travelled 27,000 miles in just six months – a distance greater than the Earth's equator. The vehicles include Tevva's next-generation electric range extender powertrain, which can reduce greenhouse gas emissions by up to 80 per cent when compared to the average 7.5 tonne diesel engine truck.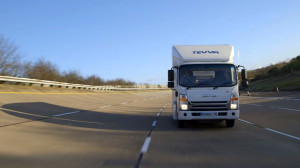 The vehicles have travelled the length and breadth of the UK, and have been utilised in daily operations with UPS.
"All three vehicles were built to be broken; that is how we find weaknesses and improve the design to be production-ready," said Asher Bennett, Tevva Motors CEO. "The fact all three vehicles continue to perform beyond expectation is testament to our design and the technology.
"It can – and is – used daily, in operations, effectively. I am extremely pleased and proud of our achievements, but this is only the start; our de sign will continue to deliver reduced costs and emissions, helping to save the planet the truck travels around every day."