That's right, entries for the Supply Chain Excellence Awards are officially open, so now is the perfect time to submit your project and you might just win one of the highly coveted awards!
Every year, the Supply Chain Excellence Awards have gotten bigger and bigger, with last year topping the number of guests at 800, more than double the amount of the previous year.
The Awards have been going strong for 27 years now, and Logistics Manager is proud to host them yet again.
The aims of the Awards are to recognise different aspects of supply chain success and some of the criteria we look for when judging is as follows;
•  To recognise outstanding achievement in supply chain management
•  To reward those companies who have attained the highest standards
•  To highlight the importance of, and the opportunities offered by, excellent supply chain management
•  To celebrate, as an industry, the successes of the past year
•  To provide a unique networking opportunity for the world's senior supply chain professionals
The 27th SCE Awards will be presented on the 9th November 2022 at a glittering award ceremony at London Hilton on Park Lane.
The Supply Chain Excellence Awards are designed to celebrate the achievements of 'end-user' businesses or those working on a functioning supply chain of any organisation.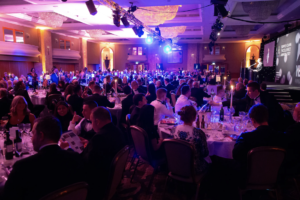 All entries must be focused in this way, on the supply chain practitioner from sectors mentioned above. We welcome submissions from solutions providers, e.g. 3PLs and consultancies, only when in partnership with an end-user practitioner client, who must be the focus of the entry.