Logistics Manager's ESG Industrial & Logistics Conference kicked off this morning [15 June] at 30 Euston Square, London.
The conference allows industrial and logistics property users to learn how they can leverage their properties to help with their environmental, social, and governance (ESG) strategies.
After some opening remarks from Editor of Logistics Manager Michelle Mooney, Chief Operating Officer of Delivery Mates Kevin Savage got the day's events underway with a presentation on micro hubs and why they are needed to support the decarbonisation of last mile transport. He explained how these micro hubs can reduce congestion, emissions, and costs in the medium term.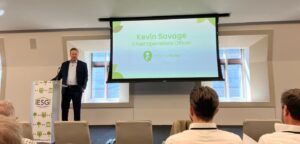 Savage said: "Micro hubs are changing last mile delivery". He explained: "Micro hubs are essential for supporting the decarbonisation of last mile transport as they provide local pick-up and drop-off locations."
However, Savage identified some major challenges that must be overcome in the future for progress to be made including the lack of available industrial space in city centres, the insufficient electric vehicle (EV) charging infrastructure, and the need for increased stakeholder collaboration. He made clear the importance of reducing greenhouse gas emissions, acknowledging that "people die because of emissions".
Next up was Karen Leppard, Head of Sustainability & ESG at GXO. She offered insights into how collaboration can deliver transformative sustainability solutions, highlighting the importance of colleagues as stakeholders as well as investing in sustainable business practices to reduce emissions.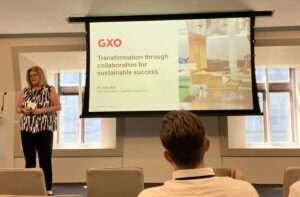 She said: "Listening to our colleagues and finding out what they need [means that] they are more likely to stay, more likely to be engaged, and more likely to perform – that's how we meet our objectives." She added: "High turnover of staff is not sustainable; engaged, committed, passionate, performing colleagues are what we need."
Leppard emphasised that improving ESG practises is great from an ethical perspective, but that it has significant commercial advantages and change should be driven from a commercial standpoint rather than an activism standpoint.
After a short break, founder and Chief Executive of Parcelly Sebastian Steinhauser took to the stage to speak about the future of urban delivery. His presentation covered trends in e-commerce, changes in customer expectations, and the need for convenience and speed in the current market.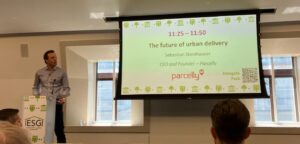 Steinhauser explained a recent trend in which customers are considering the environmental impact of their orders more, revealing that 86% of modern consumers are willing to delay e-commerce delivery if it means reducing environmental impact.
He also built on the point that was raised earlier by Kevin Savage that micro hubs seem to address many of the biggest challenges facing the industry currently, but noted that "warehouse space in urban areas is difficult to find and incredibly expensive".
James Hyde, founder of James and James Fulfilment, was next to speak. He gave the audience a look into the environmental cost of returns and explained what can be done about it.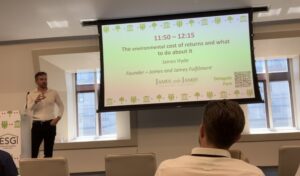 Hyde explained how the environmental impact of returns can be reduced by cutting down on the need for items to be returned as well as improving the returns process itself.
He also spoke about the importance of understanding consumer habits and values in making a real impact on sustainability, covering consumer attitudes towards returns and issues such as customers not recycling recyclable packaging. He drew attention to the statistic that 25% of landfill is paper and cardboard, noting that switching to recyclable packaging can only actually make a difference if it is being recycled.
In the final presentation before the break, Vice President and Head of Commercial at Iron Mountain Phil Shepley gave an interesting talk about building a sustainable and flexible 3PL business.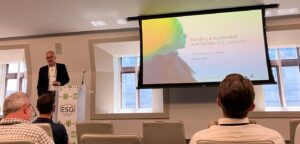 He explained the value of agility and flexibility in Iron Mountain's Warehousing-as-a-Service (WaaS) offering to its customers in an industry where disruptions are unfortunately quite common at the moment.
Shepley went into detail about Iron Mountain's new Rugby site that is set to open later in the year and what has been done in its construction to meet the company's ESG goals. The facility, which has achieved an EPC Rating of 'A' and BREEAM 'Very Good' certification, has been built to net zero carbon in construction and features EV charging infrastructure.
With the first half of the conference now over, there is a break for lunch and an opportunity for attendees and speakers to network before the afternoon's sessions. Still to come, the audience will hear from representatives of Mitie and Campbells Electric Vehicle Consultancy as well as what promises to be an engaging and enriching panel session with some of this morning's speakers – chaired by Michelle Mooney.
Keep an eye out on the Logistics Manager website for coverage of the second half of today's event.