Etihad Cargo is to transport a consignment of 68 show jumping horses from Belgium to Hong Kong for the annual Longines Masters of Hong Kong taking place on 15-17 February for equestrian events organiser EEM World.
The dedicated charter flight from Liège Airport to Hong Kong International Airport. The horses will be accompanied by professional grooms and a veterinarian for the round-trip journey to ensure they remain comfortable and calm.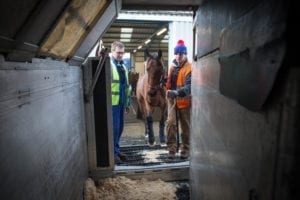 The horses will travel on a Boeing 777 freighter which features a specially designed ventilation structure and temperature control system. The Boeing also features EASA and FAA certified – horse 'air stalls' which feature non-slip floors which are covered with absorbent materials. The stalls are stocked with hay and water.
"The horses flying to Hong Kong are the stars of our show and without them there would be no Longines Masters of Hong Kong," said EEM founder and CEO Christophe Ameeuw.
"We are delighted to entrust the safety and care of these world class show jumping horses to Etihad Cargo this year again.  We look forward to their arrival at Hong Kong airport next Monday 11 February and kick off of the Masters and the Asia Horse Week."
In 2018 Etihad Cargo transported over 2,000 horses.