The European Union has reached provisional agreement on a regulation designed to cut CO2 emissions from commercial vehicles by 30 per cent by 2030.
Commissioner for Climate Action and Energy Miguel Arias Cañete said: "With the first-ever EU emission standards for trucks agreed, we are completing the legal framework to reach the European target of cutting greenhouse gas emissions by at least 40 per cent by 2030. The European Parliament and Council have reached an ambitious and balanced agreement.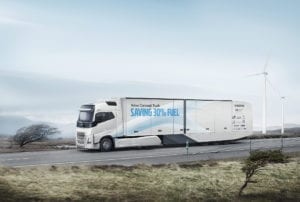 "The new targets and incentives will help tackle emissions, as well as bring fuel savings to transport operators and cleaner air for all Europeans. For the EU industry, this is an opportunity to embrace innovation towards zero-emission mobility and further strengthen its global leadership in clean vehicles."
However, Volvo Trucks warned that additional measures are needed to stimulate demand for vehicles with low CO2 emissions.
President Roger Alm said: "It's natural for the EU to now introduce limits on CO2 emissions. To speed up the transition, we would however also like to see stronger financial incentives for the customers who take the lead and choose more climate-friendly vehicles."
Volvo plans to launch series production of electric-powered trucks this year. "We're at the stage where the technology will soon be ready for wider applications in heavy-duty transport. If demand is stimulated and the new charging infrastructure network is expanded, the volume will also be able to increase at a faster rate than would otherwise be possible," said Lars Mårtensson, Volvo's director of environment and innovation.
Volvo is also offering gas-powered trucks and is continuing to develop diesel technology saying that it had cut CO2 emissions by some 20 per cent since the early nineties and there was room for additional improvements.