Logistics Manager Top 50 Service Providers Part One, in association with Westcoast
1st December 2020 @ 10:30 am

-

11:30 am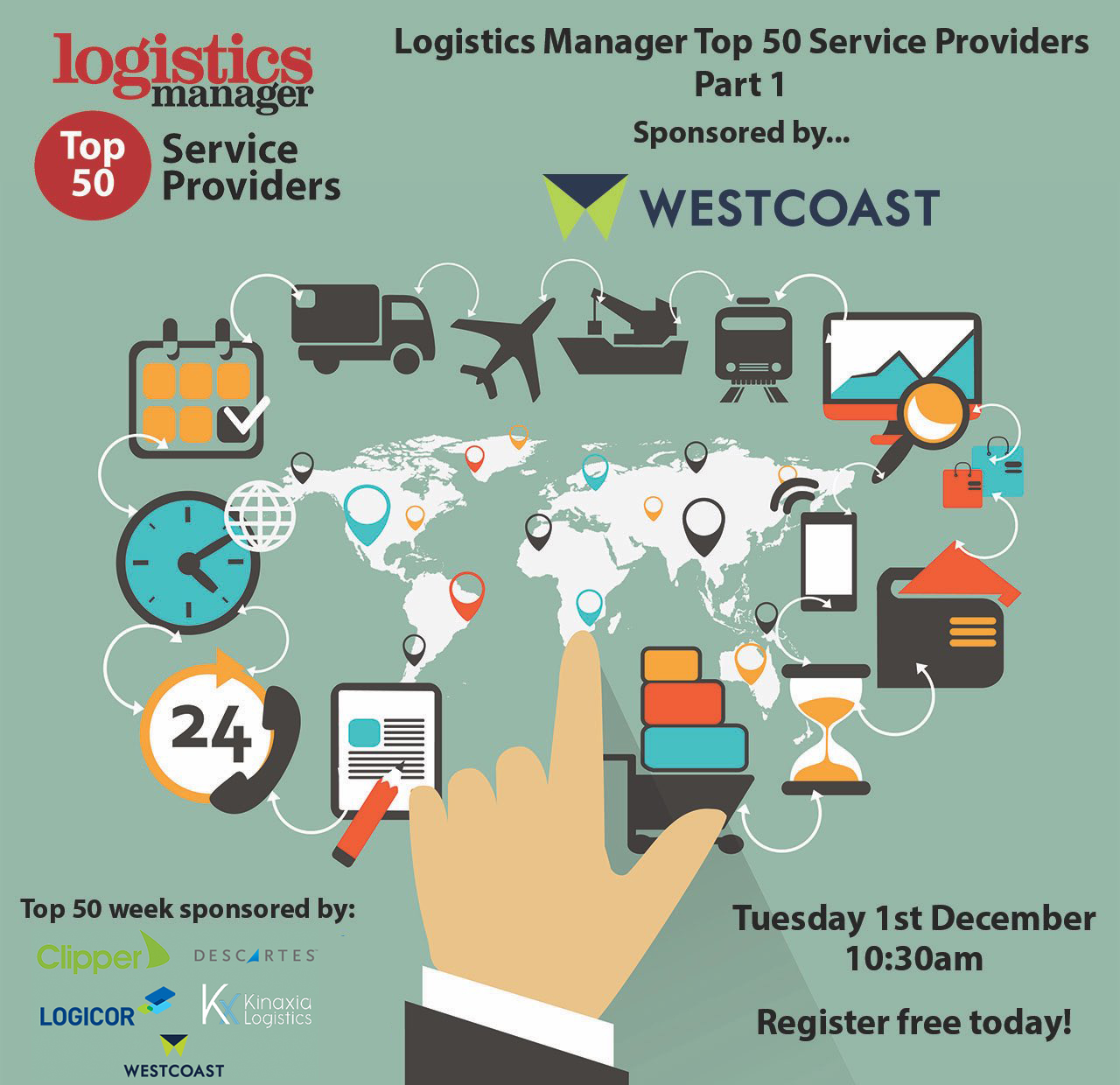 Join Logistics Manager Editor Christopher Walton in conversation with Westcoast Managing Director Alex Tatham and Logistics and Operations Director Andy Newberry to discover how Britain's largest privately-owned IT company is growing its supply chain, distribution, fulfilment and warehousing services for some of the largest brands in the world.
You'll find out how Westcoast represents companies such as HP, Apple and Microsoft, and how it is diversifying its 3PL services for a wide variety of customers, including Estee Lauder as well as how it provides laptops for schools and PCs and printers for Nightingale Hospitals – and what its growing 3PL services can do for you.
This webinar will also reveal who ranks 50 to 31 in the Logistics Manager Top 50 Service Providers 2020 – which tells the growth stories behind the largest and most successful 3PLs, 4PLs and logistics and supply chain service providers in the UK.
This is the first is a series of three webinars taking place throughout Top 50 Week. Register for free now!
Meet the Speakers
Alex Tatham
Managing Director Westcoast
Alex has been in the UK IT Distribution channel for over 20 years. With a degree from Durham University in Zoology, Alex qualified as a Chartered Accountant with Ernst & Young in 1987. Alex joined newly listed Ideal Hardware in 1995 and served time as Head of the Ideal Institute (training), Head of European Sales, Commercial Director and UK Managing Director before joining Westcoast as Sales & Marketing Director in 2008. He was promoted to Managing Director in 2014.

Andy Newberry
Logistics and Operations Director Westcoast
Andy has worked at Westcoast for over 17 years. He was previously Operations Director at Action Computer Supplies and Logistics Director at Insight. Westcoast distributes IT products such as PCs, notebooks, software and printers from firms including Apple, Lenovo and Microsoft. It has more than 14,000 customers across the UK and Europe including retailers, dealers and resellers.
Christopher Walton
Logistics Manager
Chris succeed the legendary Malory Davies as Editor of Logistics Manager in September 2019. He is the host of the Supply Chain Excellence Awards and the Logistics Manager and IntraLogisteX Connected webinars. Day-to-day Chris writes about all things supply chain; materials handling and industrial property and is curator of the annual LM Top 50 Service Providers. He has worked as a business journalist since 2002 and his career as a logistics journalist started in 2008