Facility floor failure is a common occurrence across the logistics sector. In many instances businesses and FMs look to relocate, however there is a fast efficient solution that will rectify problems on existing sites. Geobear, is the leading floor lifting and mezzanine support provider.
Geobear enables logistics centres to continue to operate, whilst floors are repaired.
Our geopolymer injection methods are the fastest and most cost effective solution to cure the problem of sinking floors in industrial or commercial property.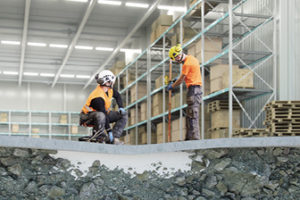 We have raised and re-leveled slabs in some of the UK's largest storage and distribution facilities. The reason Geobear is commonly selected to solve problems with sinking floors is the speed and mobility of our solution. Where traditional methods such as piling or complete excavation are a last resort, Geobear is the first port of call. We can solve problems with sinking slabs whilst operations continue. This means operational losses are minimised and by enlarge the entire facility can remain operational throughout the works.
If racking is misaligned, safety compromised or machinery subject to vibration failure, Geobear can rectify these problems with absolute precision – we can re-level a floor to within 0.25mm.
Mezzanine Floors – use your vertical space
Installation of mezzanine floors within existing facilities is becoming common place, but in many cases the existing floors or footings can not withstand the additional weight. Here, Geobear use an extremely dense material which allows those areas to withstand additional loads and allow a facility to grow using vertical space.
Our engineers and geo-technicians are trained in satisfying the requirements of each specific project, and we offer faultless monitoring and support.
'Setting the standard' for durable, non-disruptive ground engineering, having worked in more than 50 countries over the course of 40 years, we have so far completed over 200,000 projects.
For more information, visit www.geobear.co.uk