More than 40 leading fashion companies have signed up to the Fashion Industry Charter for Climate Action, a UN-backed initiative to address the climate impact of the industry's supply chain.
Companies signing up include, Burberry, Stella McCartney, Inditex, adidas, Levi Strauss, H&M, Target and the Otto Group.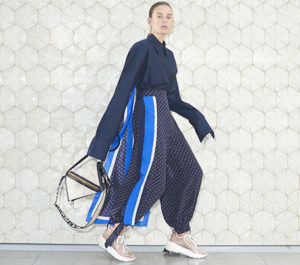 "We are aware that more than 90 per cent of PUMA's Carbon Footprint is being generated in shared supply chains. If we want to reduce carbon emissions in our supply chains, we need to work together with our industry peers," said Bjørn Gulden, chief executive of PUMA, another of the signatories to the charter.
Signatories have set an initial target of reducing their aggregate greenhouse gas emissions by 30 per cent by 2030.
The charter is aligned with the goals of the Paris Agreement, and contains the vision for the industry to achieve net zero emissions by 2050.
It defines issues that will be addressed by signatories, ranging from decarbonisation of the production phase, selection of climate friendly and sustainable materials, low-carbon transport, improved consumer dialogue and awareness, working with the financing community and policymakers to catalyse scalable solutions, and exploring circular business models.
Six working groups have been established in which signatories will work to define steps for implementation.
"Climate change is undoubtedly one of, if not, the biggest challenge of our lifetime. It is and will affect everyone on this planet and our future," said designer Stella McCartney. "This is why I am proud to be a signatory of the Fashion Industry Charter for Climate Action. I want to call on my peers in the business, from other brands to retailers and suppliers, to sign up to this charter now and take the necessary actions to address the reality of the issue of climate change in their business and value chains. Collectively we have a voice and the capacity to make a difference."
MPs quiz retailers on environmental impact of their clothing