Brakes, the supplier of food to the catering industry, is making deliveries in London with its first fridge-bodied Mercedes-Benz Econic to feature the manufacturer's own automated manual transmission.
The low-entry 18-tonner is powered by a 7.7-litre straight-six engine driving through a 12-speed Mercedes PowerShift 3 system.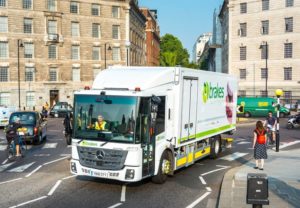 The PowerShift transmission system was not previously available on the Econic. It has been introduced to meet demand from distribution-related operations for a more fuel-efficient alternative to the six-speed Allison automatic which is well-suited to stop-start waste collection duties.
Working from the company's Premier Park distribution centre in west London, Brakes' Econic 1830L is making an average of 20 deliveries each day to hotels, restaurants, pubs and other establishments in London.
Brakes' fleet & MHE Manager Paul Vernon said: "The Allison gearbox was not appropriate for an operation like ours, but we have high hopes for the Mercedes PowerShift system. We've already seen some very encouraging fuel returns. The Econic is averaging 10 mpg, which is on a par with the 18-tonne Mercedes-Benz Antos trucks we operate from the same location.
"The Econic's cab affords drivers great all-round visibility, which may help to make the roads safer for cyclists and pedestrians. Its easy cross-cab access also enhances safety for our own drivers, because rather than stepping down into the traffic when they exit the vehicle, they can always do so on the pavement side."
Environmental compatibility was also a priority. Like other vehicles based at Premier Park, the Econic runs on Shell GTL (gas to liquid) fuel. According to independent research from one of the UK's vehicle testing organisations, this fuel offers significant reductions in NOx and particulate emissions compared to a standard Euro VI truck.