AG Barr, the company behind Irn Bru, has taken delivery of its first ever DAF trucks – sixteen 18 tonne curtainsiders in a partial renewal of its 100-strong fleet.
The LF 230 FA trucks have been designed for the lowest possible loading height; the vehicles are loaded by forklift, but once out on the road their drivers have as many as 30 drops a day to unload by hand. They also have automated gearboxes.
Transport services supervisor Steve Bird said: "I had the task of speccing the new trucks and produced what in my mind was the 'full ideal spec', which I gave to DAF. They seemed to relish the challenges and came back quickly with everything we wanted, at a competitive price. We already knew the generally high reputation of the brand," he said, "so it was a pretty straightforward decision after that."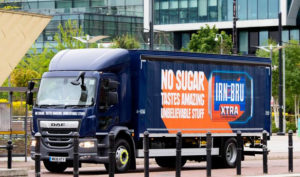 The DAFs are all fitted with curtainsider bodies by Bevan, built at their Oldbury factory in the Midlands.
"We have also specified an engine-idle shutdown system," said Bird. "Engine idling is a major contributor to any operator's costs and there's a big environmental price that goes with it."
* Leyland Trucks is celebrating 20 years as part of PACCAR this year. When it became part of the group the Leyland Assembly Plant was building 9,000 trucks a year – since then production has growth to more than 15,000 trucks a year.
Today, Leyland manufactures the full DAF product range of LF, CF and XF vehicles, 40 per cent of which are exported around the world.
In 2003, PACCAR Parts constructed a Parts Distribution Centre on the Leyland site to provide support for the DAF UK and European dealer networks. It now operates as one of Europe's main Parts Distribution hubs specialising in aftersales support, distribution, logistics and service for DAF and other truck makes, buses and trailers.
"Leyland's world-class status is maintained by our ability to leverage a community of expertise," said Bryan Sitko, Leyland managing director.