The first train, loaded with 1,000 tonnes of steel coil, has arrived at Thamesport for The Armitt Group from Tata Steel in South Wales.
The train, operated by DB Cargo, is the first to use the Armitt's 120,000 square feet specialist handling facility at the port.
The steel will leave the port by road, and is destined for customers across Europe.
"The Armitt Group are delighted to be delivering a long awaited 'deep sea connected' rail connected supply chain solution to the UK steel industry," said managing director Allan Seedhouse.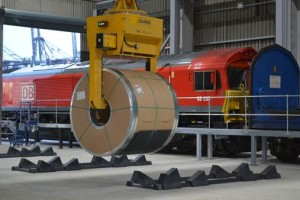 "With approximately half of the UK steel imports being consumed within the West Midlands our focus has been to deliver a direct rail link from our London Steel Terminal to our West Midlands rail hub."
Clemence Cheng, managing director of Hutchison Ports Europe, which owns Thamesport, said: "The first of many, this move demonstrates clearly London Thamesport's prime advantages as a multi-purpose cargo handling port. With an excellent combination of deep-water and multimodal rail and road connections to London, the South East and beyond to the Midlands and North West, London Thamesport is ideally located to serve all its customers' logistical needs."