Flexi's new lithium-ion powered articulated reach truck was the star of the show at a series of open days at the Narrow Aisle factory this week.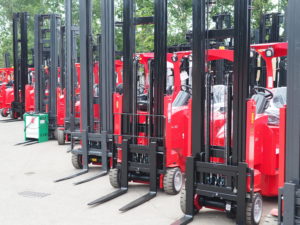 The LiTHiON range was launched last year, and managing director John Maguire believes that many users of LP gas-powered handling equipment in warehousing will switch to machines that run on lithium-ion batteries, as the ideal way of reducing running costs, exhaust emissions and operational noise levels.
A key benefit of lithium-ion technology is the combination of integrated digital motors and lithium-ion power, which Narrow Aisle says, is so effective when it comes to eliminating wasted power that truck availability is typically increased by 25 per cent every day.
Maguire also highlighted the growing popularity of the Flexi AC HiMAX which has a 14 metre lift height to meet the demands of ever taller warehouses.
Models in Narrow Aisle's Flexi LiTHiON range can operate safely and efficiently in aisles as narrow as 1.6 metres wide and can lift loads weighing up to 2.5 tonnes and to heights of 14 metres.