French 3PL FM Logistic has developed and patented an ergoskeleton – the Ergoskel – designed to prevent neck and back strain during materials handling in the warehouse.
The wearable device has been developed to prevent musculoskeletal disorders by reducing the physical strain workers have on their bodies while lifting and putting down packages.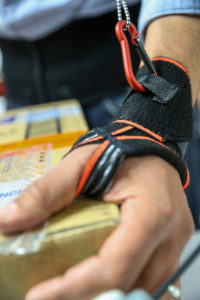 The Ergoskel is designed to facilitate the handling of parcels weighing up to 25 kg. The vest-like device consists of a frame with elements on the upper body, lower back, and upper thighs, as well as cables with hand clutches.The lift-assistance mechanism starts when the picker places his or her hand under the parcel.
Following a trial, 85 percent of the testers said they were able to keep their freedom of movement. The first tests show that the Ergoskel reduces strain on the back and upper muscles by 70%.
Yannick Buisson, FM Logistic's managing director for France and Western Europe, said: "Innovation is key to improving the health, safety, and working conditions of our warehouse employees – one third of which are pickers."
By Michelle Mooney