Ford is expanding its trials of plug-in hybrid electric vehicles to Cologne in Germany from next Spring.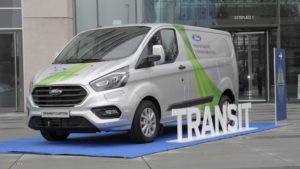 It will operate a fleet of ten Transit Custom PHEVs with regional companies in the city to investigate the extent to which PHEVs can help to achieve urban air quality goals.
The trial will initially run for 12 months, in cooperation with municipal fleets serving the public sector, complementing testing in London and Valencia, in Spain, with larger fleets and small-to-medium fleets respectively.
The Transit Custom PHEV is designed to give a zero-emission range of more than 30 miles making it suitable for use in city traffic.
It uses a 1.0 litre petrol engine as a range extender, charging the on-board compact liquid-cooled lithium-ion battery pack as required to offer a total range of up to 310 miles.