Ford is unveiling the production version of its plug-in hybrid Transit Custom at the IAA Show in Hannover later this month, alongside a new 48-volt mild hybrid (mHEV) power train.
The Transit Custom PHEV has an hybrid system that targets a zero-emission range of up to 31 miles, and features the 1.0‑litre EcoBoost petrol engine as a range extender. The EcoBoost engine charges the on-board batteries when longer trips are required between charging stops, providing operators with outstanding efficiency and flexibility, and a total range of more than 300 miles.
Displayed in final production form in Hannover, the PHEV has a compact liquid-cooled lithium-ion battery pack located under the load floor, preserving the full cargo volume offered by the standard van. The vehicle features the all-new interior design from the latest Transit Custom, including dedicated information displays for the PHEV variant.
The 48-volt mHEV technology will be used on manual transmission vehicles to further improve fuel efficiency, particularly in stop-start urban driving. The mHEV system captures energy on deceleration in a 48-volt lithium-ion battery, and uses the stored energy to help drive the engine and electrical ancillaries.
"Hannover will mark the arrival of an exciting new family of Transit commercial vehicles that are 'born connected'," said Hans Schep, general manager, commercial vehicles, Ford of Europe. "Advanced connectivity, and our game-changing electrified vehicles, will create extensive new opportunities to create value for our customers."
The IAA, which takes place from 20-27th September, will also see Mercedes Benz unveiling its Urbanetic mobility concept which, it says, "goes way beyond existing ideas on autonomous vehicles" and will eliminate the separation between goods transport and people moving.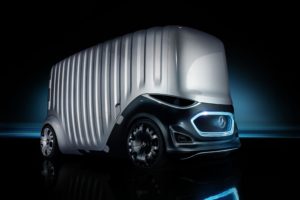 The concept is based on a self-driving, electrically powered chassis that can take different switchable bodies for people moving or goods transport. As a ride-sharing vehicle,
Vision Urbanetic can accommodate up to twelve passengers, while the cargo module can carry up to ten EPAL pallets. A load space 3.70 m long fits into a total vehicle length of 5.14 m. Plus, the concept incorporates an IT infrastructure that analyses in real time the supply and demand within a defined area.
Mercedes-Benz Vans envisages transporting more people and goods with fewer vehicles on a virtually unchanged roads infrastructure to relieve inner cities and, at the same time, fulfil continually growing mobility requirements and customer desires. This would ultimately facilitate an improved quality of urban life – with flexible and comfortable movement of people, efficient and sustainable transport of goods, significantly lower noise and pollutant emissions and greater freedom in city planning.