Ford has revealed the first five fleet operators that will be trialling its Transit plug-in hybrid van (PHEV) in London starting this autumn.
They are: Transport for London; Metropolitan police; Clancy Plant; Addison Lee; and British Gas.
More details of the trial were revealed at the CV Show on Tuesday when industry commentator Quentin Willson, hosted a discussion with Mark Harvey, director of the urban electrified van programme, and Peter Collins, test & development manager for the Metropolitan Police.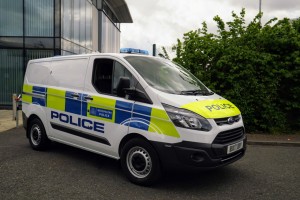 The project, supported by Transport for London, involves a 12-month trial of 20 new Ford Transit Custom PHEVs that reduce local emissions by running solely on electric power for the majority of inner-city trips. The vans are equipped with petrol-engine range extenders, which means the vehicles are not limited by battery range, making them capable of the longer journeys that may be required by businesses and "blue light" services.
Ford will use a telematics system to collect data on the vehicles' financial, operational and environmental performance to help understand how the benefits of electrified vehicles could be maximised.
The five fleets include the Metropolitan Police with two Transit Custom PHEV vans: one marked for second response to traffic accidents and one un-marked as a forensic support unit. In addition, Transport for London will use three of the vans for freight duties.
The Transit Custom PHEV van is planned for commercial introduction in 2019, part of the manufacturer's $4.5 billion investment in electrified vehicles by 2020 as it expands to be an auto and a mobility company, including leading in electrified and autonomous vehicles and providing new mobility solutions.