Ford is targeting the delivery market with the launch of a Transit van with automatic transmission.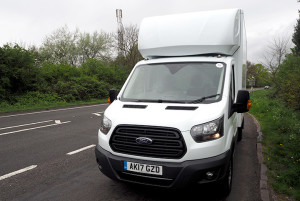 The Transit is the undisputed leader in the van market, but multi-drop delivery specialists are increasingly demanding automatic gearboxes to make the job easier for drivers.
Ford will be showcasing the new six-speed SelectShift automatic transmission at the CV Show which opens at the National Exhibition Centre in Birmingham today (25th April).
Prices start at £21,240 for the Transit Custom and £24,415 for the Transit. The new transmission can be specified in combination with the 130PS and 170PS versions of Ford's new EcoBlue diesel engine, with Auto-Start-Stop as standard.
The SelectShift gearbox has been engineered specifically for the Transit and has a new torque converter and external casing to improve refinement, with a torque capacity of more than 415Nm.
Gear changing is electronically controlled with typical shift times of less than half a second.
Ford, which recorded its highest ever CV sales at 118,000 last year, will debut its latest Transit Custom Sport van at the CV as well as a new Transit Courier Sport van. This will have a 100PS EcoBoost petrol engine or 95PS diesel.
It will also be showing the fourth generation intelligent All Wheel Driver Transit with an enhanced driveline design that combines the front differential and AWD coupling into a single unit reducing weight by 10 kilos.
Ford is also hosting a Cleaner Air for London: Transit PHEV panel discussion on its stand at the show.
Andy Barratt, chairman and managing director of Ford of Britain said: "Ford has consistently provided UK customers with the most appealing CV range, offering customers class leading vehicles in all key segments."
The Commercial Vehicle Show takes place at the National Exhibition Centre from 25th to 27th April.